It's my much-delayed report on Ladies' Day at Ascot 2013! I had a blast as usual – and we even won big in one race when we bet on the Queen's horse to win, and also scooped the second and third place runners too – but somehow, the shine is wearing off of this event for me. Maybe it's the fact that I had my foot crushed by a rather large middle-aged lady who was completely smashed out of her mind during the Bandstand Singalong (and it still hurts now, two months later) or maybe it's the fact that the dress code standards have slipped again, but there's just something about Ascot Ladies' Day that is wearing a little thin on me now. But, this post is to concentrate on the positive!
The theme this year was floral (my friends and I try to match – last year's theme was obvious and awesome at the same time!), so I spent a lot of time hunting out the perfect floral dress. It had to be flared and with a '50s style vest-shaped top. I found the perfect dress in French Connection's Maggie Lou. However, I had a massive crisis of confidence when my usual dress size didn't fit me, which prompted me to go on an epic, short-term weight loss plan, which I'm pleased to say was successful. I am certainly not the size I'd like to be, but I did fit into a size 10 again!
Once I found my perfect dress, I needed a hat or fascinator to go with it. I had always planned to get something made, so I commissioned the fabulous Marissa Fleur from Etsy to create a bespoke headpiece based on the colours of the dress.
Floral Headpiece, commissioned from Marissa Fleur via Etsy / Disc Stud Earrings with Aqua Chalcedony Stones, Azuni / Maggie Lou Dress, French Connection / Wrap, Monsoon / Natalie Clutch, L.K. Bennett / Black Patent Maddox Wedges, L.K. Bennett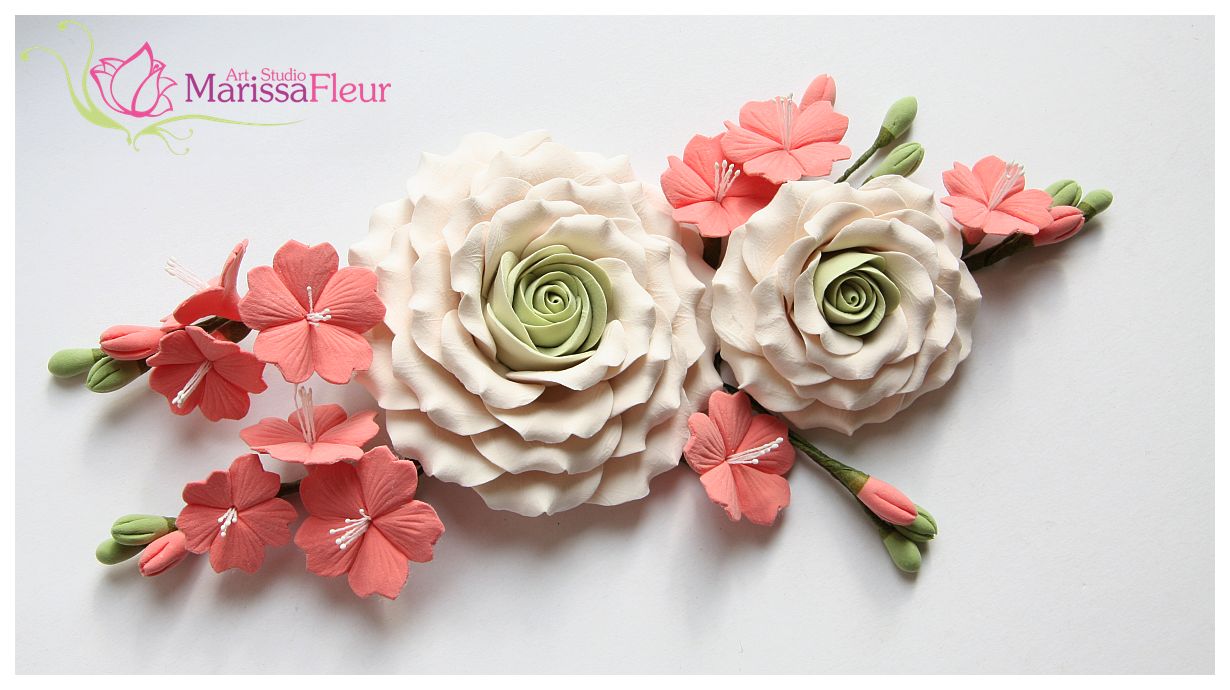 Here's what the headpiece looks like flattened out, and below is the finished product on a headband, which is how I wore it on the day!
We booked afternoon tea at the event and wound up being incredibly late thanks to some atrocious traffic on the way. I think we were stuck for at least an hour and a half. It wasn't the best of ways to begin, I have to say, although the tea was lovely enough to make it worth the wait:
At first I was slightly disappointed, as I thought the pork pie, tarts and fondant fancies were shop-bought, but upon thorough investigation, they seemed to have been made by hand – and they were certainly tastier than their supermarket counterparts!
The tearooms were a bit corporate feeling, but the mismatched china gave it a cool look – although, obviously, it's much cheaper to fill a tearoom with mismatched china sets! At our table there was even a set that matched my colour scheme!
The afternoon tea cost £24pp and was honestly worth it for not having to go through the drama of fighting for a table at one of the kiosks or in the Bandstand restaurant. The food was very decent, and there was certainly enough! I think we were stuffed by the end! And anywhere with tea on tap is fine with me, of course.
For dinner, we went to Heston's Hind's Head in Bray again, but I think I'll save that for another post. In the meantime, here are a few more pictures of the day…
Next year, I think I'm going to try out a few different race meets. I'm thinking Epsom and Goodwood for 2014!
I love Ascot Ladies' Day… Let me revise this. I love wearing a hat in the company of other, well-dressed hat wearers. I just really, really, REALLY love hats. But, I never wear hats. If you knew me, you might be surprised how much I love hats, because of my general lack of headwear. So, Ascot Ladies' Day is the day I pay a wedge of cash to someone to let me into a field wearing a hat, so I can feel no shame all day long for indulging in my frivolous love of hats.
As it's Jubilee year, this was my hat of choice:
This is the Hobbs Britannia hat, and the moment I saw it in the paper, I had to have it. I bugged the hell out of the Hobbs customer service team until it was released, and as soon as it appeared on the site, I ordered it immediately. Then, it became the centrepiece of our grand scheme to colour co-ordinate for the day. I always go with two of my friends, Rachel and Lorraine, so it was decided that we should wear red, white and blue. I immediately bagged red, because it's my favourite colour and I decided I needed an excuse to buy another red dress. I forgot I already had three. Rachel bagged white, and Lorraine went with blue. Then, we decided to each have one accessory with the Union flag on it. I already had my hat, so shoes and a bag were the obvious choices. For my wedding, I actually wore a pair of Union flag shoes, so Lorraine decided to track a pair down for herself.
Rachel bought a really cool Union flag purse by LDC (and it was so cool I had to buy one too), and we were all set… apart from the dresses. At first we were all going to buy the same dress in different colours, but the one we had in mind just needed too much alteration, and the blue and the red weren't particularly strong. So, we abandoned that idea and Rachel ended up with a beautiful white ASOS dress (that she won in a competition!) and Lorraine borrowed another ASOS dress from me. I wound up buying a pretty lace dress from Pepperberry. 
Hilariously, I spent ages before the event agonising over whether everyone else would be wearing this hat, because I'd seen it in the press a lot after I bought it, and it was a fairly obvious choice considering even the venue was decked out in the flag to celebrate the Jubilee – but no one else was wearing it. Someone else did have on the exact same dress as me, though… Typical! 
Here are Rachel and Lorraine – I cleverly cut off Lorraine's amazing shoes, because I'm awesome at photography!
Needless to say, we had a great time. We won a third of our stake back, which is great, and we even got to stay for the singing around the bandstand! 
If anyone has any other British hat-wearing events they can recommend to me, please do!